Full-Product Manufacturing @ Bluechips

ELECTRONIC MANUFACTURING SERVICES

Start-to-Finish Electronic Production
The EMS service we offer at Bluechips is designed to assist our customers with any and all aspects of electronics manufacturing. Where many companies need to outsource stages of their product's development cycle to multiple suppliers, Bluechips can take care of the entire process under one roof.
Central to our service is both the capabilities of our production and the expertise of the team who delivers it. We employ engineers from around the world to help you develop your product, introduce it to mass production and work on constantly optimising the manufacturing process. This is complemented by our state-of-the-art machinery in our tailor-made production floor, featuring five SMT lines with the latest Fuji machinery as well as a variety of soldering, wave, printing and testing machines. 

"More than Manufacturing"

Our emphasis on establishing long-term relationships with our customers means that we strive to ensure a continuous service that goes beyond the initial delivery of your turnkey product. That means that beyond our product development, introduction and manufacturing, we also offer a rigorous quality control program, strategic purchasing, well-connected logistics and a thorough communication strategy via our customer service team. 
 Learn more about each stage of our process below or click on a specific topic for more detail.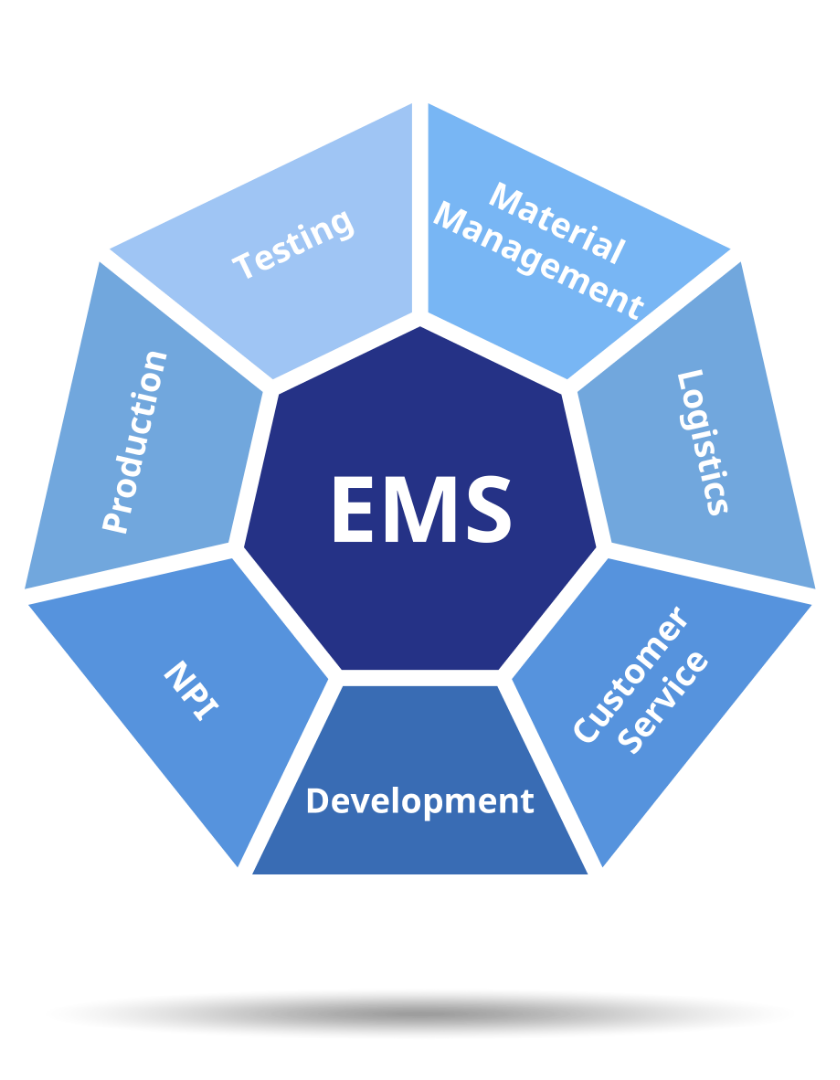 Our R&D team takes great pride in helping our customers improve their current products and develop new ones.
Our team of international engineers is among the largest development teams in Northern Thailand and offers software, hardware and firmware solutions to our customers based on your ideas or specifications.
The New Product Introduction team was brought into Bluechips in recent years to help customers transition new products smoothly into mass production.
The NPI engineers at Bluechips are the focal point for new projects and work with all our internal departments to ensure capacity, materials and documentation are in place to allow your products to be made with the highest quality from day one. 
Our primary service offering comes from the high quality manufacturing that takes place on our production floor. With consistent investment in market-leading machinery, we can offer full PCBA or turnkey products to your specifications. With the capacity for any mix or volume of products, our production floor is ESD certified throughout and was specifically designed to maximise the efficiency of our processes. 
As we offer so many different processes, our quality assurance and testing capabilities have to be rigorous. As with our production, we have invested extensively in the personnel and machinery to make sure that we can fulfill our central promise of high-quality production. Everything from X-ray testing, 3D optical testing, solder paste inspection and functional testing is available and can be tailor-made to your requirements during development. 

Mechanical
To further our commitment to making full electronic products for our customers, we have invested heavily in our mechanical department. As a result, we can now offer a range of metalworking solutions to ensure you can have your entire product manufactured in one place. Our new Trumatic 1000 machine offers laser cutting and punching with a range of complementary machinery in place for grinding, bending and powder coating products to match both technical and branding requirements.

Cable Assembly
On top of our mechanical capabilities, we also offer a full cable service to our customers. This is another crucial step in allowing our customers to trust us for the entirety of your production requirements. Our cable department work in our main facility and offer both cable and harness assembly as well as the capability to cut, strip and crimp cables to best suit your finished product. 
---

If you want to know more about any aspects of our service or request a quotation, please contact us.